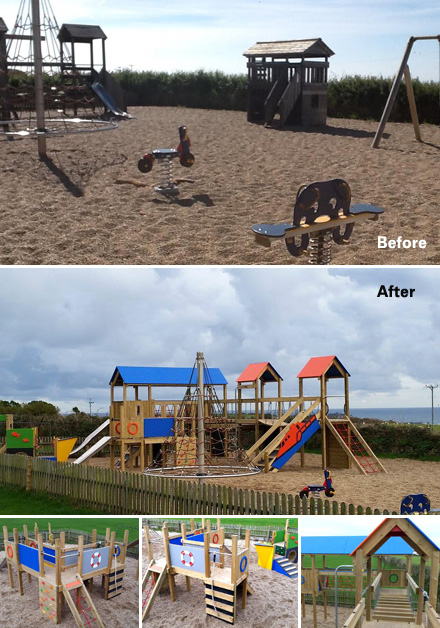 The lovely people at Landewednack Parish Council were after some play equipment to replace their rather tired equipment that had served the community well for many years.
The Council requested something similar to what they already had (if it ain't broke, don't fix it) but an updated version. Bright colours were on the wish list and something extra for the younger children to play on.
With a comfortable budget and a sensible wish list we went to work designing something for this beautiful location. Mainly because of its coastal setting and the nearby Lifeboat Station we suggested theming the new equipment, and after a little bit of to-ing and fro-ing the final layout and design was agreed upon. The results can be seen in the before and after shots.
While we were on site we also did some maintenance work on an existing Spinning Cone Climber that had seized up. It didn't take as much work as we had originally thought so we were able to reduce the final bill accordingly. Landewednack Parish Council were keen to work with a Cornish company and as all of our equipment is manufactured in Cornwall and the majority of our raw materials/stainless steel components are from Cornish suppliers, we certainly ticked that box. We are also not far away should they have any problems. We also have to mention that our team on site were well looked after by Ann's Pasty Shop.
A couple of weeks after we completed the project we got in touch to check all was well. They had received one complaint which concerned me… until I heard the compaint. "Too many children in the play area now". That is the kind of complaint we can't do much about I'm afraid.
Lovely project, lovely people. Big thumbs up!